OCEANFRONT PROPERTY Yacht Description
Oceanfront Property is a 2018 FP Saba 50 catamaran, which sleeps up to 6 guests in 3 spacious cabins with walk-around queen beds and lots of storage space. There are 5 freshwater electric heads with separate shower stalls. The master cabin is slightly larger than the other 2 cabins and has a larger bathroom as well as an office desk and TV. The saloon table also converts to a bed to accommodate up to two guests. The Saba 50 has enormous living areas making it ideal for extended cruising ventures and entertaining family and friends. The boat's design provides seamless movement and communication between the cockpit, helm station and lounge deck, while the spacious saloon evokes the ambiance traditionally found only on much larger yachts. The saloon is accessed via an extra-wide entry door that effectively integrates the indoor and outdoor spaces and features skylights plus a spectacular panoramic window that provides exceptional views and natural light. The L-shaped galley overlooks the saloon and cockpit and boasts a large two-drawer refrigerator, separate freezer and an abundance of storage space. The saloon also has a separate weather-protected navigation station with VHF remote. The Saba 50 has been designed with multiple relaxation areas including a luxurious upper lounge deck equipped with three chaise lounges and a large sitting area. The forward deck has a sitting and sunbathing lounge area. These complement the generous cockpit, which features a large lounge, extra sofa, a cockpit refrigerator, and a large dining table for all guests. With an exterior profile that reflects the elegant and innovative philosophies of her designers, the sailing yacht Saba 50 turns heads wherever she goes. Voted Best Boat (Sail Magazine Awards), this sailing yacht is the perfect vessel on which to share the joy of exploring the most beautiful destinations with those you love.

TOYS: 2 Stand Up Paddle Boards, Snorkeling Gear, 1 Large Floating Mat, Tubes, 1 2-Person Kayak, 1 Subwing, 2 Fishing Rods & Onshore Games.

DIVING: Offered via rendezvous only
Presented by DMA Yachting, the majestic charter yacht OCEANFRONT PROPERTY is a 50 ft sailing catamaran. The main attractions of OCEANFRONT PROPERTY are her impeccable styling and interconnection with the sea. OCEANFRONT PROPERTY spends the summer and winter season in US Virgin Islands. She was constructed by the renowned boatbuilder Fontaine-Pajot in 2018. The well-planned yacht layout features 3 large cabins and comfortably accommodates a group of 6 guests.
OCEANFRONT PROPERTY is introduced primarily as a sailing catamaran. The the heart of the yacht is the main saloon, which connects to the aft deck. The aft deck is expansive, with a comfortable dining and seating area and usually it where you, as a charter guest, spend most of your time. The immersive cabins offer designer mattrace beds and feature ensuite bathrooms. The cabins are located below the main saloon, connected by stairs (inquire about handicapped access). Multiple portholes connect you with the outside world.
and a generator.
Accommodation
3 queen cabins with ensuite bathroom including en-suite electric toilet, shower and sink. All cabins are full air-conditioned and individually controlled.
Crew uses starboard forward cabin and head.
What is the cabin arrangement of OCEANFRONT PROPERTY?
OCEANFRONT PROPERTY Charter Price Details
| | | | | | | | | | | | |
| --- | --- | --- | --- | --- | --- | --- | --- | --- | --- | --- | --- |
| Season Name | 2 guests | 3 guests | 4 guests | 5 guests | 6 guests | 7 guests | 8 guests | 9 guests | 10 guests | 11 guests | 12 guests |
| Summer 2022 | $20,000 | $20,500 | $21,000 | $21,500 | $22,000 | $0 | $0 | $0 | $0 | $0 | $0 |
| Winter 2022 to 2023 | $20,000 | $20,500 | $21,000 | $21,500 | $22,000 | $0 | $0 | $0 | $0 | $0 | $0 |
| Summer 2023 | $20,000 | $20,500 | $21,000 | $21,500 | $22,000 | $0 | $0 | $0 | $0 | $0 | $0 |
| Winter 2023 to 2024 | $20,000 | $20,500 | $21,000 | $21,500 | $22,000 | $0 | $0 | $0 | $0 | $0 | $0 |
OCEANFRONT PROPERTY Yacht Charter Price

| # of charter days | Base Price | APA (deposit for provisioning, fuel, docking fees, etc) | Total | | Note |
| --- | --- | --- | --- | --- | --- |
| 14 day charter | 39,400$ to 44,000$ | 7,880$ to 13,200$ | 47,280$ to 57,200$ | | Discounts outside the main season are common. |
| 7 day charter | 19,700$ to 22,000$ | 3,940$ to 6,600$ | 23,640$ to 28,600$ | | Standard charter rate, base for all calculations. |
| 3 day charter | 9,850$ to 11,000$ | 1,970$ to 3,300$ | 11,820$ to 14,300$ | | The usual formula is the 7 day charter rate divided by 6, times the number of days (3). Boat policy might differ. 19,700$ / 6 * 3 days = 9,850$ |

All prices are generated by a calculator and serve as a guide for new charterers. Any additional information of the Price Details section has priority over above. Availability is always subject to confirmation. Gratuity not included for it's discretionary character, usually 5%-25% of the Base Price.
Price Details
High season rate: $22,000
GENERAL NOTES:
ESS THAN 7 NIGHT CHARTERS: For 6 nights divide by 7N X 6N. For less than 6 nights, divide by 6N X number of nights.
MINIMUM NIGHTS: 6 inquire for less

SLEEP ABOARD: Sleep aboard the night before charter dates. Available for $400 per cabin per night, with a 3 cabin minimum. Includes snacks, welcome cocktails & continental breakfast. Dinner is to be taken ashore at client expense. EXCLUDES: Christmas and New Year's weeks.

HALF-BOARD OPTION: Includes 7 breakfasts, 4 lunches & 3 dinners, happy hour canapes, standard ships bar and snacks. Other meals ashore at client expense.
2@$19,700 3@$20,050 4@$20,400 5@$20,750 6@$21,100

LOCAL FARE OPTION: Includes 7 breakfasts, 5 lunches & 6 dinners, happy hour canapes, standard ships bar and snacks. Other meals ashore at client expense.
2@$19,850 3@$20,275 4@$20,700 5@$21,125 6@$21,550

CHRISTMAS/NEW YEARS 2021/2022: 7 night minimum, VIRGIN ISLANDS
CHRISTMAS: 1-6 pax $28,000 - 7 night minimum, full board only
NEW YEARS: 1-6 pax $33,000 - 7 night minimum, full-board only

**SEE BROKER NOTES FOR MORE INFORMATION - WAIVER REQUIRED IN ADDITION TO CONTRACT**

Copy link below & paste into browser to submit waiver:
https://bit.ly/cyawaiver


GENERAL NOTES:
ESS THAN 7 NIGHT CHARTERS: For 6 nights divide by 7N X 6N. For less than 6 nights, divide by 6N X number of nights.
MINIMUM NIGHTS: 6 inquire for less

SLEEP ABOARD: Sleep aboard the night before charter dates. Available for $400 per cabin per night, with a 3 cabin minimum. Includes snacks, welcome cocktails & continental breakfast. Dinner is to be taken ashore at client expense. EXCLUDES: Christmas and New Year's weeks.

HALF-BOARD OPTION: Includes 7 breakfasts, 4 lunches & 3 dinners, happy hour canapes, standard ships bar and snacks. Other meals ashore at client expense.
2@$19,700 3@$20,050 4@$20,400 5@$20,750 6@$21,100

LOCAL FARE OPTION: Includes 7 breakfasts, 5 lunches & 6 dinners, happy hour canapes, standard ships bar and snacks. Other meals ashore at client expense.
2@$19,850 3@$20,275 4@$20,700 5@$21,125 6@$21,550

CHRISTMAS/NEW YEARS 2021/2022: 7 night minimum, VIRGIN ISLANDS
CHRISTMAS: 1-6 pax $28,000 - 7 night minimum, full board only
NEW YEARS: 1-6 pax $33,000 - 7 night minimum, full-board only

**SEE BROKER NOTES FOR MORE INFORMATION - WAIVER REQUIRED IN ADDITION TO CONTRACT**

Copy link below & paste into browser to submit waiver:
https://bit.ly/cyawaiver



OCEANFRONT PROPERTY Yacht Charter Locations
Summer Season
Caribbean Virgin Islands (US)
Winter Season
Caribbean Virgin Islands (US)
Amenities
Number Of Cds:
iPod bluet
Number Of Port Hatches:
15
Minimum Child Age:
Water safe
Specifications
Turnaround:
48 hrs, Inquire for 24
Features
BBQ: Yes
AC: Full
Generator: 17Kw
Internet: Onboard WIFI
More Specifications
Homeport:
St. Thomas, USVI
Yacht Insurance:
Selecta Insurance
Diving Yacht offers Rendezvous Diving only
Dive Info:
Rendezvous diving
Air Compressor:
Not Onboard
Scuba On Board:
Yacht offers Rendezvous Diving only
Fishing
Fishing Gear Type:
2 trolling rods
Water Sports
Swim Platform:
Scoop steps & tender lift
Boarding Ladder:
S/S ladder of scoop steps
Crew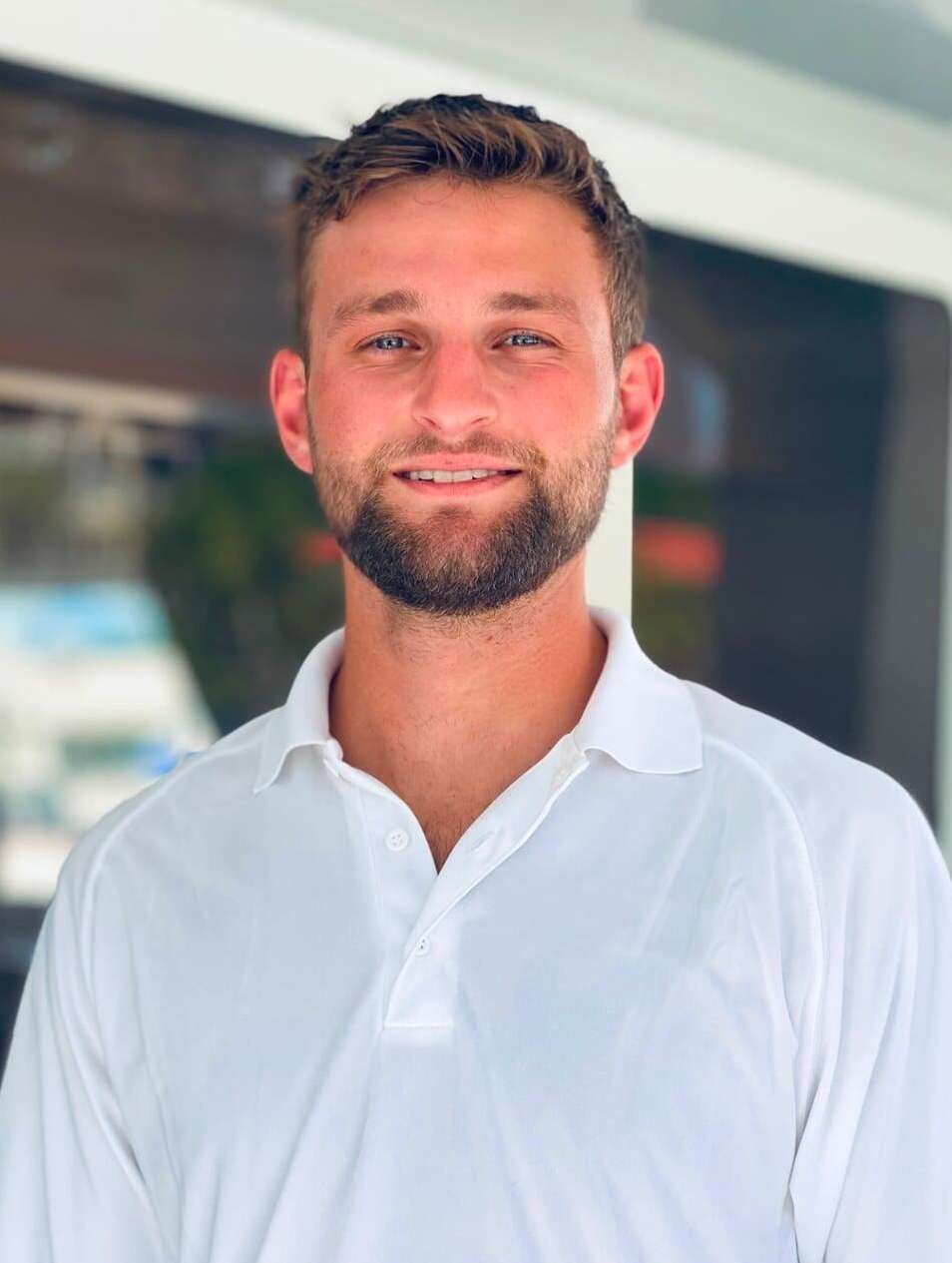 Captain
Chef/First Mate
Captain Tim welcomes you aboard Oceanfront Property. Tim spent the first 10 years of his career as a professional chef traveling and working all over the world. He was born and raised in St. Louis Missouri, which you can imagine is not the sailing capitol of the United States. He found his love for the Ocean when he spent 3 years aboard National Geographic's expedition ships sailing the entire west coast of North and Central America. He found his true home when he moved down to St. Thomas and fell in love with the culture and pristine Carib waters.

After 3 years running chartered yachts all over the U.S and B.V.I's, Tim knows all the secret spots and hidden gems the islands have to offer. After years of being a chef, he certainly knows his way around the bar and would be happy to mix up some delicious craft cocktails anytime. He prides himself on not having a set itinerary and having the ability to read the vibe of the day. Creating the perfect relaxing vacation everyday for guests and imparting on them the same love of the islands he has.

Tim holds a USCG masters license and STCW 95 certification and has logged well over 1000 days at sea. He would love to share his passion for the sailing lifestyle and personally tailor the perfect yacht vacation for you and yours. You can usually find him strumming his guitar or diving down to catch some spiny lobsters to throw on the grill for that night's dinner. From his culinary skills, island knowledge, and a knack for creating the most fun charter environment possible, he's the ideal Captain for your next vacation.

Maya grew up primarily in the suburbs of Washington D.C. but spent several years going back and forth between her parents' countries of Japan and Canada. A lover of water, she spent her youth body surfing on the beaches of California and sailing and canoeing on the lakes of Ontario. Upon graduating from the University of Toronto where she studied Japanese, Spanish and biology, she realized she wanted more involvement in food. And so her culinary journey began with six months of WWOOF-ing in Spain and Portugal followed by a move to Baltimore where she became involved in the robust organic urban farming community while cooking at an award winning French bistro, bartending at a natural wine and sake bar, and roasting and serving coffee.

During 2020, she lived in Japan where she interned at a Michelin 2 star restaurant and is a graduate of the Ballymaloe Cookery School, an institution located on an organic farm in Cork, Ireland. Having traveled to over 30 countries, her culinary repertoire is immensely diverse. Her experiences have led her to prioritize a commitment to sourcing high quality, seasonal, and local products, creating strong relationships with producers. She especially enjoys foraging, fermenting and pickling. In the off-seasons she loves backpacking, hiking, camping, weightlifting, film, and has recently taken up skateboarding. In the most recent off-season, she was learning about the ancient wine culture of the Republic of Georgia and working the harvest on a low-intervention winery in Slovenia. She is relentless when it comes to furthering her gastronomic knowledge, highly competent and committed to catering to all guests' dietary restrictions, preferences and aspirations.


***CREW HAS BEEN FULLY VACCINATED FOR COVID-19****


Reviews
July 2022
Tim and Maya,

Thank you both for such a wonderful trip this week- seriously was a dream come true! We loved every day (minus Andrew's hangover day :) lol)
Highlights:
-swimming with sea turtles
-Lime Out rain shower
-cornhole/ "Bags" competition
-Rummy 500 tournaments
-Amazing food + drinks!!!!

We will never forget this week!

Please call if you are eve in the NJ/NY area!

Love y'all!!

The Bruens
July 2022
Dear Tim and Maya,

This week aboard Oceanfront Property was truly a trip of a lifetime and you both exceeded our highest expectations! Tim's captaining skills took us to glorious destinations and memorable experiences. Every destination was different with its own beauty and magic. We will forever remember the amazing snorkeling under the pier in Saint Croix and cocktails overlooking the crystal blue St. John waters. Your cocktails were out of this world Tim, thank you!

And, the food… you are such a talented and amazing chef, Maya! Every meal was delicious, beautifully presented, and a work of art. You have certainly encouraged us to "up" our cooking game-your mastery of the use of herbs and seasoning is unsurpassed.

Thank you both for all the time and attention you gave to ensure that our trip was a magical, relaxing, adventurous, and unforgettable. We struck gold when we booked this trip with you as our crew… wow, just wow!

We hope you find your way to Maryland and the Chesapeake Bay~ If so, please let us know. We would love to take you on a boat ride, cook for you, and enjoy listening to Tim and Ralph playing guitars and crooning the night away!

With much fondness and gratitude,

The Leasure Family
June 2022
Our trip was one of the BEST vacations we have ever taken with our friends. It was a unique and unforgettable experience, filled with great memories. Captain Tim and Chef Maya went above and beyond, and everything was complete perfection. Tim was not only a great Captain, but he was also funny, entertaining, AND a fantastic bartender whipping up Painkillers, refreshing Mojitos, and sinfully delicious Bushwackers. And as for Chef Maya, at the end of the trip, we wanted to take her home with us! Every meal was creative, beautifully presented, bursting with flavor, and incredibly healthy. In fact, she opened our eyes to how food can be both healthy and scrumptious. and has inspired us to improve our culinary skills at home! It was truly an amazing experience with friends that exceeded our expectations. Ours wasn't an easy trip as we were tandem sailing with another group of friends on different boat for 7 nights, and both crews had to coordinate daily. The crew made the trip exceptional – they were super friendly, accommodating, highly attentive, professional, and made us feel very welcome. They took us to amazing snorkeling/diving spots, beautiful coves/beaches, organized a surprise live concert on our boat (which was delightfully interrupted by a dolphin that graced us with its presence and allowed us to swim with it!!). We not only enjoyed Tim & Maya's service, but their company as well! Had a blast playing drinking games:) And Tim even belted out a few tunes on his guitar for us on the last night. The Oceanfront Property was a luxurious place from which to just stare into various blue colors of the US Virgin Islands. And we can't wait to do it again!"

Raj & Brad
June 2022
Captain Tim and Chef Maya, thank you for an incredible trip that we all will never forget. From Maya's meals to Tim's captain skills – we enjoyed every moment. Many fun days and nights were had on this boat (some we may not fully remember). Truly, I can say this for all of us when I say we don't want to leave! You two are incredible humans. Please keep in touch and we will see you again.

Aargh!
The Campbell Family.
April 2022
Tim and Maya,

Our heartfelt thank you for an amazing, relaxing vacation with you on Oceanfront Property. You both made our week so much fun! The places we visited, the fishing and the snorkeling, the sails and amazing meals were beyond our expectations. You both work so well together!! Thank you for the board and card games, the music and drinks of the day. We will all definitely be back and look forward to sailing with you again! A week for the memory books!
April 2022
Capt. Tim and Maya,

Thank you for providing us with a wonderful week on Oceanfront Property as we toured the Virgin Islands. We really appreciate all the hard work that you provided "behind the scenes" to give us a seemingly stress-free week. The meals were wonderful – so fun for us toe enjoy sharing a meal together. Some favorites – avocado toast, fruit platter, shashuka for breakfast, lobster bisque and crab cakes for lunch, homemade pasta with scallops, and freshly caught mahi mahi – yum! Not to mention the incredible Key lime pie and crème brulee. Thank you for teaching us some new games to enjoy with our family. So fun!

It has been a pleasure spending the week with you. Thank you, Tim, for accommodating our requests to spend some time with our cousin on the other boat. We also appreciate all the cool stops we made during our week – Christmas Cove, Caneel Bay, Pizza Pi, Lime out...

We had a fabulous time!

With fondness and appreciation,

Magie and Dick Beers.
April 2022
Maya and Tim,

Thank you for an incredible vacation aboard Oceanfront Property. Everything from the food, sailing, accommodations – exceeded our expectations! Highlights for us included – Maya catching the mahi mahi on Day 1, swimming with turtles in Maho Bay, Lime Out, spotting 4 squid in Caneel Bay, drinking and dancing to the disco ball and fun music, and generally reading, sleeping, and relaxing our way though each day! Thank you for showing us a wonderful time, keeping track of us all, organizing with our cruiser boat, feeding us incredible meals and giving us memories for a lifetime. Until next time..


April 2022
Our trip with Oceanfront property has been so amazing! Absolutely "AMAZEBALLS"! The food was incredible. Tim and Maya are the best people you will ever meet. Maya's cooking 10/10 always. Tim's bus driving skills 6/10, could be better. Just kidding. We love you guys so much! Oh also did you know we swam with turtles and went on the most magical beach is filled with hermit crabs. But watch out for the sea urchins!! Also make sure to ask Timmy and Maya for the full moon party pack..sorry waning gibbous moon party pack I mean!
April 2022
Thank you Tim and Maya for a wonderful vacation. Maya created delicious and creative meals and snacks every day. The service was fabulous. Tim took us on an adventurous sale. They had great recommendations for beautiful settings every day. The beds were so comfy and we loved being rocked to sleep at night. Thanks for teaching us how to play Codenames-we have to get that one at home. We loved her ocean front property vacation!

Gordon and Aileen
March 2022
Thanks Tim and Maya for an amazing time. This was my first time in a charter and I can't have imagined a better experience! Thanks!
March 2022
Tim and Maya
This has truly been a spectacular week, all thanks to the two of you. From the incredible meals, drinks to you hospitality – showing us the best of the islands, to the fun game nights – you two are part of the family! We knew this week was going to be great but you two made it amazing in every way Thank you both from the bottom of our hearts. This isn't goodbye but see you later!
March 2022
Capt Tim and Maya
Thank you so much for the amazing week of sailing, dining, and fun! It was truly a memorable experience that ill never forget. The hospitality, meals, and drinks were all exceptional. The knowledge of the islands and showing us around were top notch. I enjoyed this trip immensely because of you two! Hope to see you all again!
March 2022
Tim and Maya,

I just want to thank you both for an amazing trip from start to finish. All the recommendations for each day were spot on. From codenames to poker, we enjoyed hanging out with you as well! I hope to see you both someday!
February 2022
Our first time to the USVI was fabulous thanks to Captain Tim and Chef Maya plus the Oceanfront Property which had a superb layout. Tim and Maya made us feel welcome from day one and put together an itinerary that took us to all three islands. A big adventure combined with incredible and tasty food, impeccable service, lots of spectacular scenery, and some wonderful friendships! Thank you Tim and Maya! Exclamation!
February 2022
Our trip on Oceanfront Property was nothing short of FABULOUS! Captain Timmy and Chef Maya left nothing out—wonderful snorkeling spots, outrageous sailing, exquisite meals, hilarious evenings of game-playing—every detail planned or spontaneous was considered and so appreciated. We will never forget this week and look forward to more trips with these two at the helm!
February 2022
Ditto to all the adjectives above that describes a week that exceeded our expectations. 5+ stars for sailing, snorkeling, hiking, and playing— Even more accolades for our crew of calm, competent captain Tim and the worlds #1 chef Maya. So much fun!!!
February 2022
Tim and Maya, you two were/are amazing. I had no idea what to expect on a trip like this, but this is more fun than anything I could've imagined. Maya, your creative cuisine that catered to all of our diet and your sense of humor were two of my most favorite things. Tim, your navigating and musical skills are most of mirable and beautiful. Thank you for sharing all of your many gifts with us, for being yourself, for allowing us to be ourselves, and for joining our makeshift family. We love you and feel blessed to have spent this time together, with you, in paradise.

Andrea
February 2022
Tim and Maya the week was as amazing and special as you both are human beings. It didn't take long to feel like family and we genuinely enjoyed our time connecting and wandering about the boat, the amazing food and all your knowledge of the islands. Tim-your amazingly talented at the guitar, lassoing a dock cleat, chopping an onion and swimming like your dinnghy depends on it. Thank you for taking such great care of us. Maya- you are a beautiful human with amazing cooking skills. I was doubtful that all the meals on the boat would be as plant-forward as my diet. You surprised and delighted us from the first meal to the last snack. It's been so fun and we look forward to connecting again.

Peace and love,

Ron Hill
January 2022
It's hard to imagine seven days and nights without a shred of disappointment but this is exactly what this trip has been: utter bliss and happiness and fun and adventure. Life with Tim and Maya aboard Oceanfront Property has exceeded my every expectation! It has been super fun getting to know them/you and we will miss you both not just because of the awesome environment you provided for us/ spectacular food, the perfect drinks at the perfect time, the best activities etc., but because you're both such easy-going, interesting, and fun people.

Each day had been better than the last-how is that possible? ! Loved it all! Here's our trip went: downpours we came aboard (so funny!), lunch and drinks and snacks on the beach, food, food, food, hikes and snorkels, band on a boat while watching from a raft-WHAT? Sailing ❤️, turtles, ruins, donkeys, drinks, drinks, drinks, games, games, dice (Perdudo), Codenames, Farkle, catching and eating fresh caught fish and volleyball, yahoo!! We also had so much fun making pasta and it's you!! And our special dinner at 1864. A lifetime of great memories.

Tim made everything happen for us! Every day he planned was exactly what we wanted/needed. Maya was so creative and professional with her cuisine and presentation. We are so impressed with our crew!! Thank you!! We're so grateful you took-us-on last minute everything worked out exactly as it should have! OMG. Miss you both already. Please keep in touch reach out if you're ever in VT! It's cold but also beautiful. You guys can cook if you visit :) I'll go to the market for you.

Cheers and gratitude!
Love, love, love
January 2022
Captain Tim & Chef Maya! Wow! What a spectacular trip! I can't believe how much everything exceeded our expectations. You are both so accommodating and so incredibly kind! The itinerary you planned was perfect! There is not one thing we would change. Such a great way to see the USVI. Now lets discuss the food! Every meal was truly out of this world. We have never eaten amazing meals 7 days in a row! Thank you for all the thought, time and consideration you put into makign this a once in a lifetime trip! We are appreciative! Getting to know you both was fun! You are wonderful people. Thanks too for the fun game night! :) You're talented and gifted in what you guys do. Thank you for a special week!

Thank you so much for the past couple days. They have been very fun. I love all the pictures I have. You both have been so fun to be with. Thank you so much for everything you have done.
November 2021
Clayton and Maya,

I echo Julie's words above but want to add a few more of my own. This is my 5th charter and hands down the BEST all because of you guys! I was so surprised to learn this was your first charter as a team as you were the perfect pair. Clayton's boating and mechanical skills were complimented by Maya's fantastic culinary skills. Both made their work seem effortless. We hope to see you again.

Beth (aka Mimi)

November 2021
Captain Rob and Chef Maya,

Thank you for an amazing trip. The two of you were a great fit for our group. Delicious food, great service, new activities, and spots to see AND jumping right in with our sense of humor and jokes. Also, you were both cool under pressure when we needed you to be. We would do it again tomorrow. Thank you.
November 2021
Rob and Maya-

Thanks for making my 50th Birthday celebration so special. It was the small touches that did not go unnoticed. From the special attention to our dietary requests to the Olympic dinghy flings, it was the details that made the trip extraordinary. We can't thank you enough. Captain Rob's primary concern was clearly out safety and comfort, honestly saved my life. Thanks Rob for the piggy back ride to the ambulance. I'm sure you'll never have to do that again. Your effortless professionalism made a terrifying situation bearable. Maya jumped into every situation like a veteran. We were all surprised to find out it was her first trip. And the food was OUTSTANDING- thanks so much for the attention to detail. Little touches like the ginger tea at bedtime made the week exceptional. It I had to sum it up, I'd say it felt like you were on vacation with us this week, not for us- that's the best!! We would travel with y'all anytime!!

Ben Teague
USVI Boat Float 2021

November 2021
Clayton and Maya,

Thank you for an incredible trip! You made every day so fun, comfortable, and delicious. Our boys could not have had a better experience- your itinerary created so many opportunities for them to try new things and for our family to create unforgettable memories. Clayton is so easy going but knows his stuff- completely unflappable! And Maya- the FOOD!!! You are a wizard. We are going home heavier and without regrets. Thanks for curating every snack and meal with such passion and care, even getting the boys to try new things. Thanks for your every day attention to detail and tidiness- both of you. We'd love to travel with you all again anytime and loved getting to know you. Wonderful hosts and people!!

-Jay, Julie, Beth, Henry and Edwin
St. John November, 2021

June 2021
My family and I just finished a one week charter on Oceanfront Property. You probably already know this but I just wanted to take a minute to tell you that our crew, Captain Rob Hyson and Chef Leala Simich, in addition to being truly exceptional at their jobs are just great people to spend a week with. Both have a gift for connecting with people of all ages. Captain Rob brings skill, confidence, humor, a flair for story-telling and excellent customer service with just the right balance of authority when necessary. Chef Leala fed us like royalty. The meals were delicious and the presentation was beautiful. She also never missed a mooring, led us on hikes, provided great conversation and generally charmed all of us with her very real warmth. In spite of all their hard work to make our trip special, both Leala and Rob were always upbeat and lots of fun to be around. They made it all look easy but we know better.

It was also apparent that the other captains and crew in your fleet have a network of friendship and support. It is obvious you've built a great team....and you get to live in paradise. So, congratulations, well done!

Best,
Jud
March 2021
Five Stars (as my kids would say)!!!!!! Rob and Doris were simply awesome. This was my first trip so I really didn't know what to expect. The catamaran was awesome and extremely comfortable. Rob really knew his craft and was willing to share it with everyone on the boat. He also knew the area extremely well and everyone in it. When we went to dinner, we were greeted by the owners of each restaurant and treated like royalty. Doris made us feel at home and totally catered to our needs individually. She cooked some great meals and jumped in the water like the rest of us!! I will use these guys the next time I come down. If I have to wait for their boat to open, I will wait for them!